Months ago I was running a search for expensive townhouses on the
New York Times Real Estate page
, like I do, when I came across a floor plan that seemed eerily familiar. It was billed as the only free-standing single-family mansion in Manhattan, my heart began to flutter, could it be? I printed out a copy of the floor plan, took it to the corner of my block, and compared it to the building in front of me. There was no doubt in my mind. The mansion on my corner was on the market for $40 million.
Now that
Brown Harris Stevens
(is it a real estate or a law firm?) has posted an exterior picture of the property, my deduction has been doubly confirmed. The house is known as the
Schinasi Mansion
and was
built in 1909 by William Tuthill, who also designed Carnegie Hall and a famous string of townhouses in Harlem, for a Turkish tobacco tycoon (nice alliteration!). It is an example of the French Renaissance style, which had a short lived heyday about that time among the wealthy for townhouses and country "chateaux" alike. The real estate listing informs us that the building is 41' wide and 73' deep, with
approximately 12,000 square feet
of interior space. It also claims that the house is "surrounded by private grounds" with
approximately 3,400 square feet
of exterior space, but unfortunately those private grounds consist of a narrow border of pavement all around the building. Still, the house occupies a corner lot on Riverside Drive, so it has a park-like feel. Best of all, its asking price has been dramatically reduced. The "
European palazzo" is
now a steal at $20 million.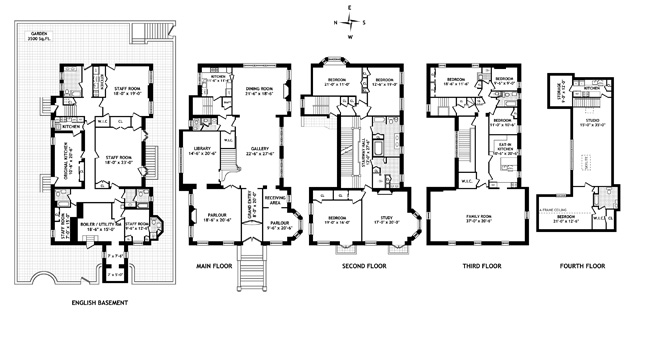 Judging from that reduced asking price and the floor plan, I initially thought that the house had not undergone a recent renovation, as luxurious Manhattan townhouses so often have. The kitchen is tiny for a modern home of this size, clearly the butlers pantry pressed into extra service. The master bathroom doesn't connect directly to the bedroom. The basement rooms haven't been turned into wine cellars, media/screening rooms, or gyms. As it turns out the house was renovated about ten years ago by its owner Hans Smit, a Columbia law professor. It's unclear if he's still the owner, but if he is, and if the house can actually sell for $20 million, he's sure to make a whopping profit, since he bought the place in 1979.
Here is a view of what I presume is the dining room. The stained glass and wallpaper give it a very Aesthetic feel. Apparently its decor includes tobacco leaves as well as pineapples, a symbol of welcome and generosity since the Federal period. The floor plan shows the dining room being more or less open to the gallery/stair hall, perfect for dances. The library on the left side of the first floor is reportedly topped by a gold-leaf dome. At least one source claims that the house once had a tunnel to the Hudson River for bringing in tobacco (though it seems unlikely that its first owner would have used his mansion for a warehouse). This is the kind of house that requires a butler and chambermaids, perhaps even a governess. Either that or you would have to invite all your craziest relatives, a menagerie of exotic pets, and the neighbors over for regular games of bicycle polo. Whichever tack the new owners take, just remember that I'm right up the block.